Choose Your Desired Option(s)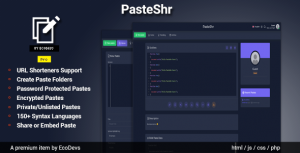 Pasteshr Pro is a script which allows you to store any text with URL shortened links. The idea behind the script is to make it more convenient for people to share text and links online.
Pasteshr Pro Features
Bootstrap 4+
Simple & responsive interface
Night Mode
Easy install
150+ different syntax languages
25+ Syntax Highlighting Skins for Ace Syntax Highlighter
Ace Editor / Code Mirror
Paste Folders
Password protected pastes
Encrypted pastes
URL Shortener
Unlisted pastes
Private pastes
Paste expiration system
Self destroy pastes
Daily paste limit for authorized and unauthorized users
Share pastes on social network
Embed, download, print pastes
Clone pastes
Report explicit pastes
Socialite (Facebook/Twitter/Google Social login)
Multi-language support
Facebook/Disqus/Custom comment system
Invisible/Custom captcha protection
AdBlocks – Ad management for advertisement
SEO friendly URLs
Ad block detection
Load files feature
Auto generated sitemaps
Spam protection
User management
Admin panel to manage pastes, syntax, users, comments, pages, languages, translations & other settings
User profile page
Trending pastes page (day, week, month, year)
QR Code for share
Site & Paste page layouts
No Captcha for logged in users feature
5 Different Color skins
Auto approve user feature
Time restriction feature to restrict between paste creation
and many more.
PasteShr Pro

Requirements
PHP 8.*
MySQL 5.* or later
Apache web server
fopen enabled
OpenSSL PHP Extension
PDO PHP Extension
Mbstring PHP Extension
Tokenizer PHP Extension
XML PHP Extension
Ctype PHP Extension
JSON PHP Extension
BCMath PHP Extension
Change Log
Pasteshr Pro v1.2.1 (May 04, 2023)
- Caching & Optimization
- Fixed some bugs

Pasteshr Pro v1.2 (February 14, 2022)
- Upgraded to Laravel 9
- Supports PHP 8+
- Removed Custom Comments 
- Added Disqus Comments Support
- Removed custom/invisible/recaptcha v3
- Added Recaptcha V2 Box
Pasteshr Pro v1.1 (October 09, 2022)
- Fixed Paste Storage File Bug
- Fixed Some Other Bugs
Pasteshr Pro v1.0 (January 25, 2022)
- Initial release.
Support & Customization Service
For any query or help email us ecodevs@gmail.com